ROCIO VEGA from Machoacan Mexico
I did this series of pieces from photos it took of Rocio when she performed in Yakima WA. in May 2015. She had such stage presence and talent that it was marvelous to watch her perform
ROCIO CONNECTING
size 19″x34″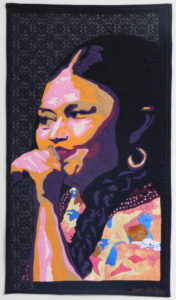 ROCIO ENTRANCED

size 24″x30″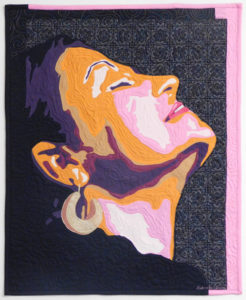 ROCIO ENTERTAINING
size 22″x39″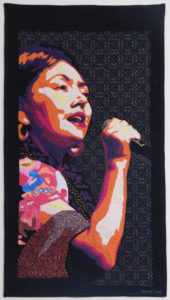 FIR TREE HIDEAWAY
size 32″x 32″
my hammock in the fir trees on the back of my property is probably my favorite place to relax after a day of gardening. This is a self portrait from my view point.
 WILD ONIONS
size 18″x 17.5″
These large Walla Walla onions were drying on the porch when I started to photograph them. By pushing the colors on Photoshop, I was able to get them to be really wild onions.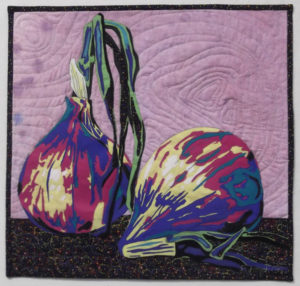 MANGO IN BOWL
size 24″x 22.5″
sometimes inspiration comes from a friends kitchen.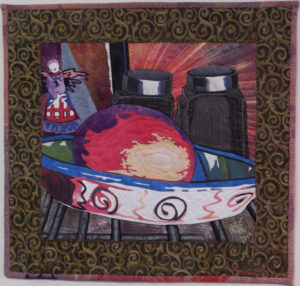 LOST AND FOUND IN 3000 AD
size 24″x 12″x 12″
collaboration with John Barany. the turning broke during drying and was thrown away. I used dye, paint and thousands of beads to create this artifact.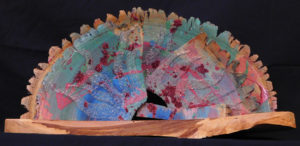 THE JOURNEY
size 41″x 71″x 1.5″
Migration from Mexico can be very difficult. These women came from a small mountain village and found themselves as still farm women in a big city.
There are 3 individual layers here. The back one depicts the mountain village; the middle one is the barren land of the fenced line between Mexico and the US and the foreground is mostly transparent with city windows and the women. Humming birds also migrate from the village and they can be seen flying between the layers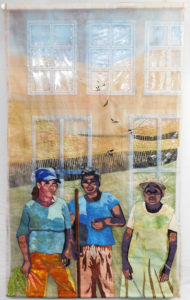 THE DREAM WEDDING OF PRINCE FROG
14″x 12″x 8″
This piece came about on it's own. I have no idea what it is supposed to mean. The chair is lily stalks with a leather back. The women is air dried paper mache' clay while the base, cushion and frogs are mostly made of Sculpey clay.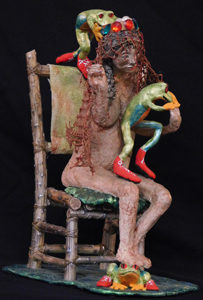 DOG GONE NAP
6″x 8″x 12″
It was such a quiet afternoon when he fell asleep on the park bench. The dog lay sleeping under the bench. Everything had changed when he awoke to find the dog gone after his nap.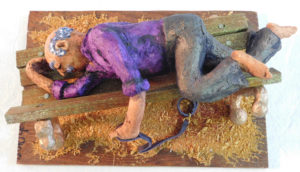 BICYCLE MAN
size 14″x 9″x 11″
He's cool, he wears the right outfit and he's fast
Paper mache', tissue paper, wire with nuts and bolts make the wheels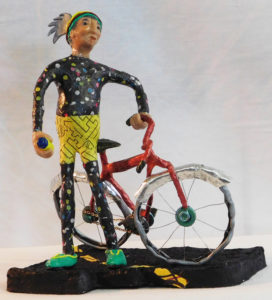 RACHEL
size 10″x 10″
a portrait of my daughter in hand dyed fabrics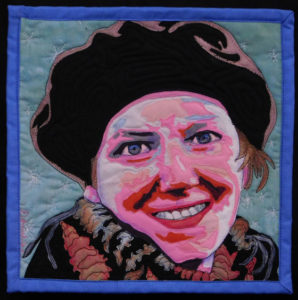 THE HAND OF FATE
size 11″x 11″x 2″
It's a matter of fate as to whether you are a have or a have-notthe backgrounds are formed cardboard from a packing box.One is decorated in glittery objects where a royal family has sat for generations.The other is littered with beads representing debris and broken lighting and peopled by people with no where else to be .