CATHOLIC CHARITIES PUBLIC HOUSING COMPLEXES
I am commissioned by Catholic Charities Housing Services of Yakima to create large fabric art pieces for their public housing projects around the region. The subject of each piece is based on the name given to each project. I then research the individual, who is the subject, to try to depict what contributions they made to the lives around them. The pieces then are mounted into wooden box frames with shatter proof, UV glass before being hung permanently in the commons room for all to enjoy.
RIO DE VIDA/ RIVER OF LIFE
size 35-40″x 82″.  Completed in 2016 to be hung in the Public Housing project in Prosser WA. this piece speaks to the river that feeds this valley. It turns the desert into rich fields of food.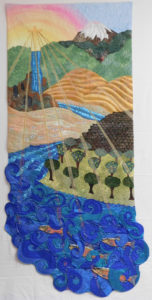 BRINGING HOPE TO LIFE. THE LIFE OF MOTHER JOSEPH
size 72″x 43″. Completed in 2016 Mother Joseph founded the Sisters of Providence in Seattle WA in the mid 1800's. Her work included building hospitals, teaching nurses, caring for the orphaned children and the poor. This hangs in Granger WA.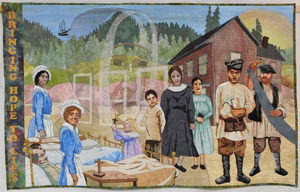 PADRE KINO. LIFE IN ARIZONA
size 72″x 48″ Completed in 2015 Padre Kino, trained in Italy as a Jesuit, came to Mexico in the mid 1600's and was then sent to Arizona to bring long-horn cattle to the new land. He also is known for having mapped much of Arizona and the Baha area. He befriended the native Americans and built many missions, many of them are still open today.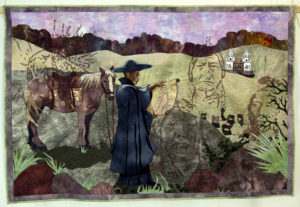 SOR JUANA. THE RADICAL AUTHOR AND NUN OF MEXICO CITY
size 72″x 48″ Completed in 2014 Sor Juana was born in Mexico in the mid 1600's in a time when most women were kept illiterate. Her desire for learning was so strong that she not only taught herself how to read, becoming a well known poet and author, but spent her life promoting the cause of all women being educated. To be able to further her life's passions she became a nun.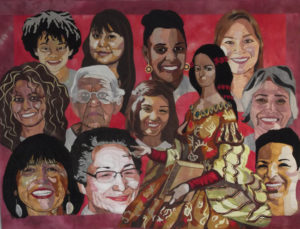 COMMUNITY HEALTH SERVICES
size 3 panels 48″ high by 12′, 28′, 16′ plus small door panel. this project was designed to lend some privacy to an outdoor rest area for the staff of this office. I was given a huge bag of different shapes and sizes of nylon banners to construct the covering with. When I was finished there wasn't an intact banner left.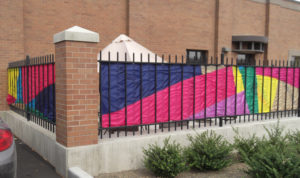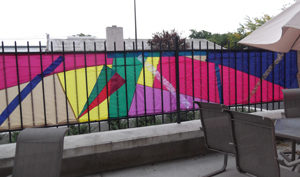 HABITAT FOR HUMANITY BENEFIT
GARDEN FOLK
size. 6′ stakes with fuel cans and wicks on top. transformed into people for your garden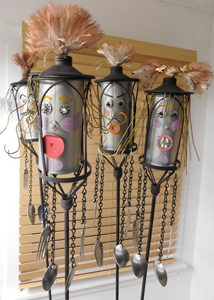 PAINTING IN WAPATO TO COMBAT GRAFFITI AND TAGGING
all of these pieces were done to improve the view of Sister Mary Ellen Robinson, who runs the Marie Rose House  in Wapato. She was surrounded by graffiti which disturbed her so we started to collaborate on eliminating it.
PAINTING CASAS EN WAPATO 2014
size 105'x 6′-8′ tall. This project was done with the efforts of 15 children (ages 9-14) from Wapato and 11 teachers from Zacatecas Mexico, who came to teach a Spanish language summer school, called Mexico in Wapato, program for the children.
The priming and background landscape was painted by 3 prisoners on work release from the Wapato jail. The children drew houses and learned how to scale them up to size, the teachers and my friends drew them on the landscape at which time everyone helped paint them in. We truly had the community involved. The only damage that has been done to this wall since the mural was a small fire started in brush by fireworks. No one has tagged or graffiti ed the work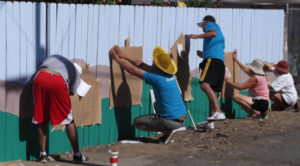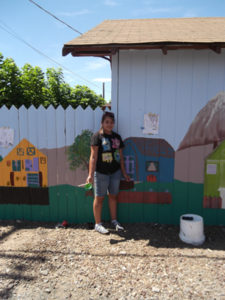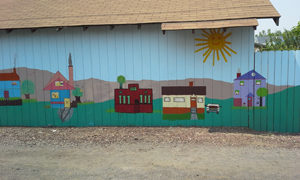 PAINTING PRIDE IN WAPATO 2015
Consists of many paintings on different sides of this abandoned house  and it's garage. Some Students from Seattle University came to paint this abandoned house. It had been badly tagged and their plan was to start a communication with the taggers by enhancing the tagging with more positive images. Some of their work has been answered by the taggers who have also used less aggressive markings. Other parts of the house and garage were completely painted over with positive images. No one has defaced a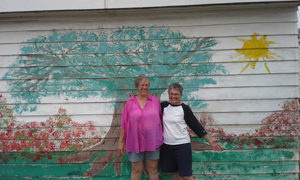 ny of the work the students painted.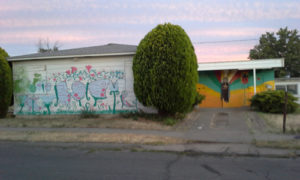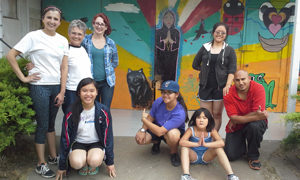 PAHTO'S PEGASUS 2016
size 20'x 10′.  We finally had the chance to do the back of the garage  at Marie Rose House. Mary Ellen can't see it from her windows but wanted to beautify the alley for those who use it daily.    I gathered  5 women artist friends, a couple of which have done professional murals, and we started meeting to decide on a theme. With Mary Ellen's input we came up with the theme . Pahto is the Native American name for Mount Adams and as the snow recedes in the spring the image of a horse appears on the mountain. Our horse became a Pegasus and dashed as a herd off the ground. These are the wild horses that really live on the mountain. Below are the rolling hills of the Yakima Valley along with Native and Mexican  images of black birds and humming birds. The children who are watching this happen were traced from children at the Mexico in Wapato summer school this year.    Actual painting took 3 days but the project spent nearly a year roaming around in our heads.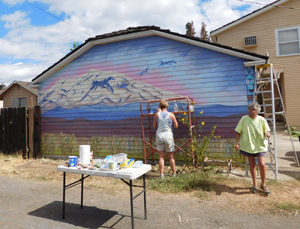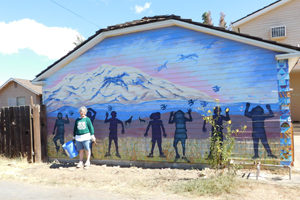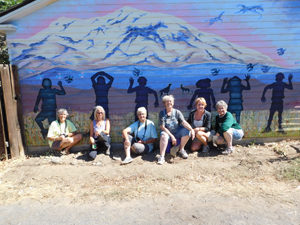 Heritage University mural
Sister Kathrine Ross Endowment Community
size 10′ x 13′
Heritage University is a small private University that is designed to help people, who come from communities where going to college is unusual. Located on the Yakama Nation many of the students are minorities. This school was founded by Sister Kathrine Ross and she  is still quite involved with the school even through she has stepped down as the president.
I was commissioned to paint the wall in the building named for her. Stained glass apples, engraved with the names of the people who have donated to the University, will adorn the apple tree. Thus the mural was depicting the Yakima Valley was stylized  to look like stained glass.
The concept design was done by Carlos Prado, an art student at HU.  He stopped by daily as we worked to cheer us on and help find us the equipment we needed. I also enlisted the help of Rosie Saldana and Maria Rueda, both graduate art students of HU. They gave me a lot of information from there experience as muralists and came to paint the birds into the mural.
Then I called in 2 women artist friends Sandy and Sarah to help with the taping and painting. We projected my drawing onto a wall I'd painted black and taped off all the lines with green frog tape. Using high gloss latex wall paint we mixed colors and painted in sections, stripping the tape as we went. It was exciting to reveal the finished painting as we went.