Collaborations are exciting
Collaborating with another artist on work causes you to push your boundaries as an artist. Because you are starting with someone else's vision you are starting partway through an idea. Very similar to starting a sentence and letting someone else continue it. Neither of you know how it will end. I think it really helps me be more creative.
Karen and Pat Miller – wood turner/ artists
Pat and Karen Miller are rising stars in the wood turning arena. While Pat creates parts for the lathe so that he can turn unusual shapes, Karen is a master at burning delicate designs into the wood. Using bleach and paints she brings a painterly quality to the surface. Together they make art with their own signature design  on it. Their work can be seen in numerous galleries, wood turning publications and at symposiums all over the world.
Onions by Starlight
size 25″x 14.5″x 9.5″       The piece started with me doing the fabric art of the onions. Then Pat turned the onions in various sizes and Karen did the burning and painting to have them coordinate with the fabric onions. As a finishing touch Karen and I fashioned the onion's drying greens out of my hand dyed fabric and glued them into a hole in the tops of the onions. Pat made the base and a curved metal frame for the fabric art.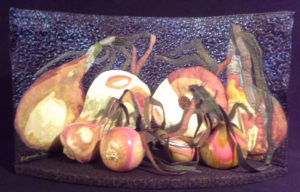 John Barany – wood turner/artist
Karen and Pat introduced me to John a couple of years ago as he was working on a large group of collaborative pieces. He'd invited 12 other artists to do their art medium on his wood turnings. Since then he and I have done many pieces and are working on more.  His wood work is innovative and creative so I am quite happy to be able to work on his art with mine.
Sophie
size 9″d x 9″    The vase, lid and platter (carved like water) were done by John. Her face is attached to the vase while her body is attached to the platter and are made out of paper mache' clay covered with Sculpey clay and painted. The "hair" is from a  place mat  that was deconstructed by the Miller's cat named Sophie (thus the name for the piece)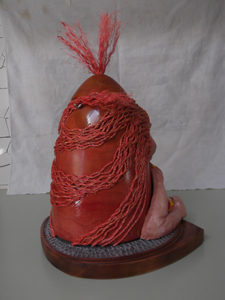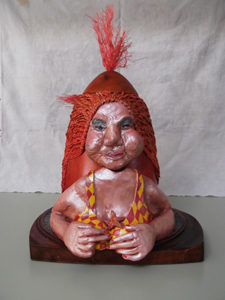 Prague
size 8″d x 16″     I love the architecture in Prague's old town and wanted to depict it here. While there I noticed the varied group of tourists wandering around and you will see some of them wandering in and out of the door below.. The boy standing by the entrance is guiding you to a light switch which will illuminate the inside (really). Hidden inside the gold domed lid is a coin from the Chec republic.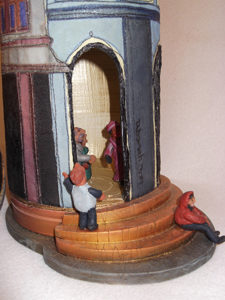 Regensburg on walnut
size 5″d x 6″   The old buildings along the bank of the Danube in Regensburg Germany were so delightful to photograph and use in this piece. John turned this squat vase and lid with finial out of walnut wood. The houses are done in fabric and stitching before I laminated them to the vase. The lid is embellished with the dry seeds produced by Japanese Iris.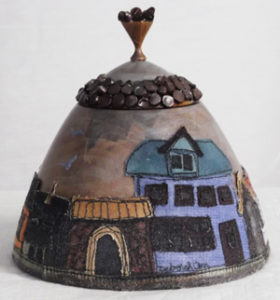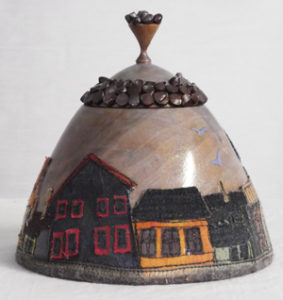 Cutting Lose
size 3″d x 14″    The women have scissors and are cutting the cords that had bound them as they dance around. They are made of hand dyed fabrics and stitching before being laminated to the wood. The finial is Sculpey clay


Man in Barrel with Fish
size 4″d x 14″   Totally whimsical. This fisherman has become part of the barrel while the fish is outside it. Made of  paper mache' clay coated with Sculpey clay and painted. The finial is a fish hook that John created with epoxy clay. The lid is removable.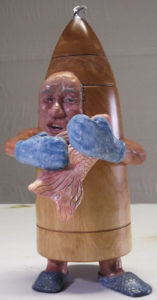 Lost and Found in 3000AD
size 24″x 12″x 12″       This large bowl was  in the trash after it broke into many pieces during the drying process. Being a scavenger, I retrieved it and over a year tossed left over paints and dyes on it before I got serious about what it would be. Some pieces take a long time to "see". Most of the front surfaces are encrusted with small beads that were glued in one by one. We found this rough wood for the base in John's shed because it looked like a sandy desert. When completed I could see that this artifact had resurfaced after many centuries of being buried in the sand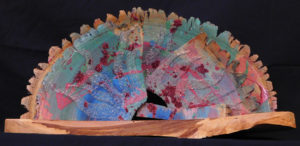 Ceramica
size 7″d x 15″    This is based on photographs I took, at a ceramico, in Santa Clara, Machoacan, Mexico. It is done in fabric laminated to wood. John burned the roof design into the upper edge and lid as well as adding the smoke as a finial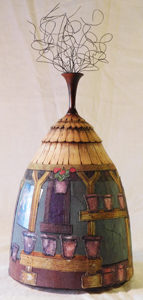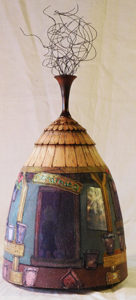 CHASING BUGS
size 10″x 7″x 9″. The turning wound up in the recycle bin as it badly cracked during the drying process… so I recycled it.  The story is that the vase has been bobbing around in the water for a long time and has been colonized by wasp. The frogs found it and are scrambling onto it in search of dinner. The finial is a real wasp nest I scavanged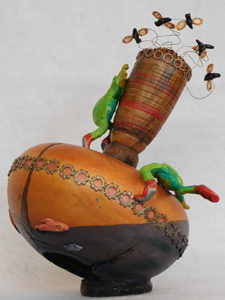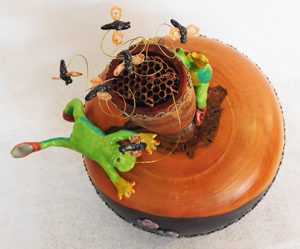 BUTTONED VASE
size 9.5″x 6.5″x 6.5″ John finished this piece with a translucent pearlized finish and a row of red "buttons" lined down the front.  I added the 3 cloth wrapped wire figures that are playing with the one free button.