Dreams of Flying
size 19″x 12″x 13″
Mixed medium sculpture. Sticks, wire, paper mache' feathers, plastic mesh bags tissue paper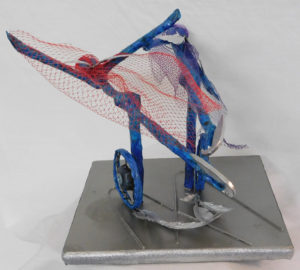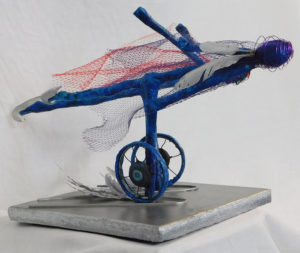 Prickly Pear in a Minor Key
size 29″x 22″
Hand dyed fabrics and thread. Machine quilted

Sit! Right!
size 40″x 27″
painted background wall, hand dyed fabric chairs, hand colored, computer images of cats

Water Rites
size 37″x 44″
Water in Washington east of the Cascade Mountains is quite different from water around Puget Sound or the Pacific Ocean. Most of it comes from snow melt in the mountains and is transported to the rich farm and orchard lands by canals. Certain people have rights to this water. In April when the water is delivered there is a culture of rites that include setting pipe, moving water and the growing of crops.

The Sun at Their Backs and The Other Warrior
The Other Warrior 6″ x 6″ x 15″
The Sun at their Backs 19″ x 12″ x 13″
Mixed media sculpture about the changing times of all people.  From the back of this piece the sun glows yellow on them. The shield is embellished with computer keys and parts. The landscape and clothing are still very traditional.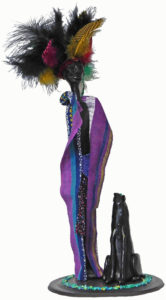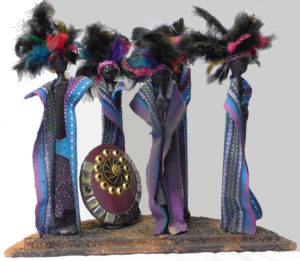 Old Brushes
size 25.5″ x 18″
Based on a collection of old used up paint brushes I have. This was designed as a demonstration piece for a class called "From Photo to Fabric".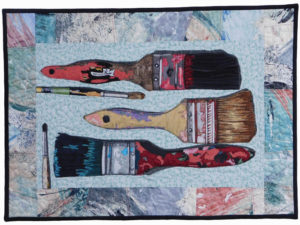 Gaudi Tiles
size 31″ x 29.5″
I love the work of Antonio Gaudi from Barcelona Spain. He did amazing buildings during the late 1800's and early 1900's. This is based on a building called "Villa Quijano-el Capricho" that was covered with these sunflower tiles.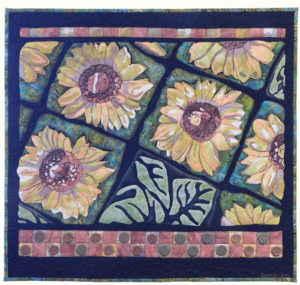 Golden Iris
size 24″ x 34″
I love my iris beds. The infinite colors changes astound me. It is  a huge challenge to depict an iris. For this I did 2 batches of layer dyed fabrics to capture the shades of gold needed.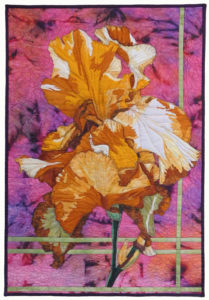 Van Sun Flowers
size 26″ x 23″
I found these dying sunflowers in a friends back yard. They just spoke to me so I was able to bring them home, if I promised to set them out for the birds to eat the seeds, and photograph them. Numerous photos and rearrangements later this piece arrived.
the left side of the background was created with leaf prints on silk while the right side is hand dyed blue fabric covered with scrunched up dark green tule.
the flowers are in hand dyed fabrices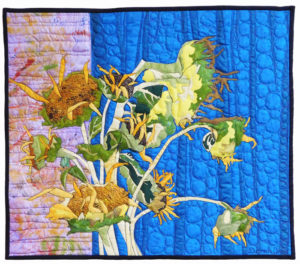 Shadow Dancers
size 30″ x 35″
While driving through town I noticed this run down apartment house with multiple satellite dishes hanging off of it. The sun was at such an angle that that long shadows were cast down the wall. After cruising around the block I was able to get a good angle  to photograph it. The shadows created a second image, that of figures with the dishes as the heads. It was just fun to make.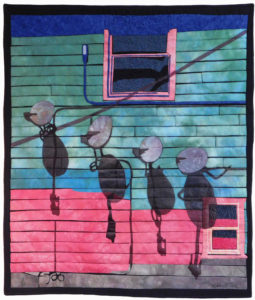 Cold Cafe'
size 20″ x 29.5″
This is based on photos I took during a trip to Prague a few years ago. I was amazed at these women who, despite the bitter cold, sat in the weather to smoke and drink coffee in a large open plaza