RAINBOW SUSHI WITH CHOP STICKS  
(size 16″x 8″x 2.5″) made entirely of fabric with added thread work and paints. the wasabi is made of Sculpey Clay and chop sticks are carved of wood.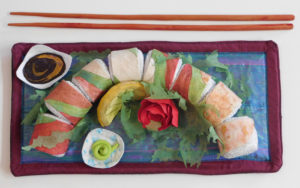 DIFFERENT STROKES
(size 31″x 28.5″) these brushes were used to paint a couple of murals and were so great looking that I just had to create them in fabric.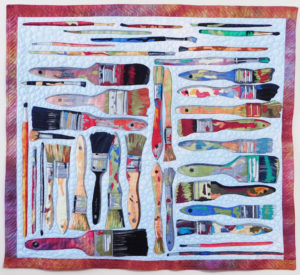 WHERE THE EARTH MET THE SEA
size 13.5″x 11.5″x 15″  this is made of paper mache' clay over an armature with a masonite base and plexiglass "mirror" that they see each other through. Faces and hands were made with Sculpey Clay.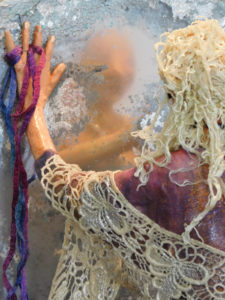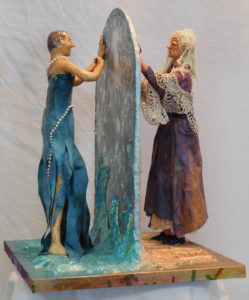 REGENSBURG FROM THE WINDOW
size 29″x26″ based on photographs I took there. Hand dyed fabric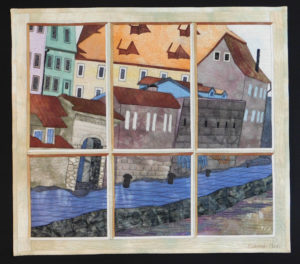 RIDING THE HORN WITH THE DILEMMA'S
11'x8'x5′  I always wanted to do a play on this saying. It only took this old horn to make it happen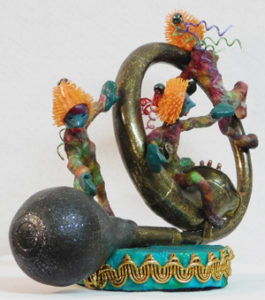 NIGHT BLOOMER
18.75″x18″ Discharge dyed fabric embellished with black buttons and beads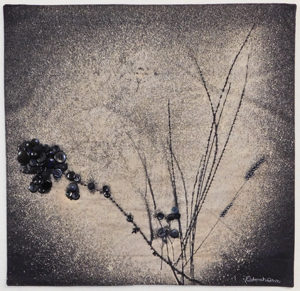 Eat…eat….eat…eat….eat…
21″x13″ inclusive 13″x11″ fabric only. I have chickadees who nest in the eave of my garage in full view of the kitchen window. I've loved following their lives they were very willing to let me take photographs of the "kids"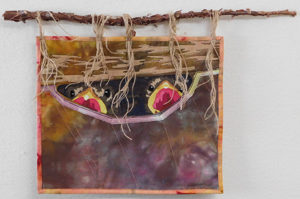 JOGGIN IN THE RAIN
17″x 10″ 6″ . this sculpture is made of brown grocery sacks paper mache' over a dowel and wire armature then glazed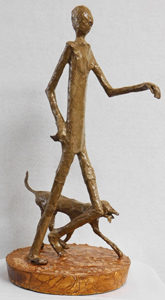 THE CORNER OF BREAKFAST AND LUNCH
size 29″x 20″. This is a small quiet town in the Yakima Valley named Tieton.  Car traffic is sparse leaving the road open to foot traffic and the best  Mexican food is at Fernando's twice a day.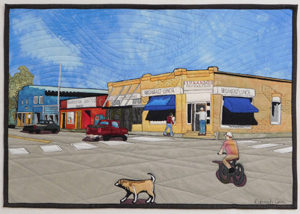 STILLNESS
size 22.5″x 33.5″  a quiet piece about a hot day outside.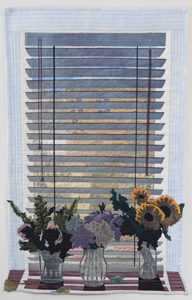 Just BE with the Birds
size 33.5″ x 14″ Peaceful country road… birds warming their feet…. cat quietly "not" watching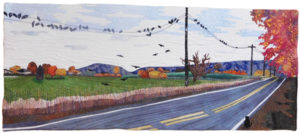 Sun Kissed Agave
size 31.5″ x 18″ in the shade…. dappled by the sun… agave ripens
Based on a visit to the Desert Botanical Gardens in Phoenix AZ.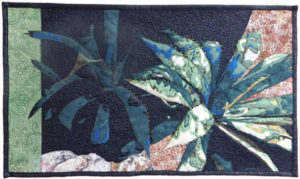 Quieting Her Inner Beast
size 14.5″ x 14>5″ x 19″
made of paper mache' clay, fabric, buttons, wire and Sculpey Clay
If a cat needed to do yoga and could form a pose (being still isn't a problem) she could relax and not be bothered by the prey around her. Sleeping works though.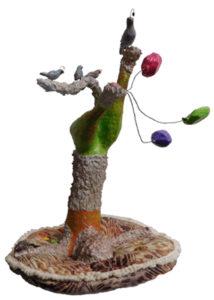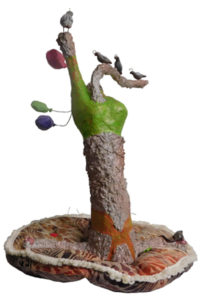 Prickly Pear Cactus
size 20.5′ x 43″
Based on a visit to the Desert Botanical Gardens in Phoenix AZ