These pieces are some of my favorite ones from this year.
STREET TUNES
size 40″x 48″
I met Ray in the St. Louis Loop as he played guitar and sang for money on a cold winter day. He is a friend of my sister's so we spent a long time enjoying his company.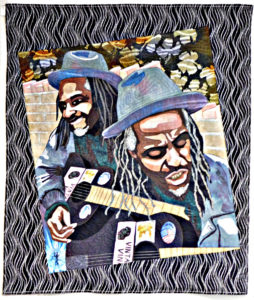 WINTER CRANES
size 32″x 70″
I was given this old kimono  which was tattered in places. By completely disassembling the kimono and salvaging the usable material it was reassembled into this winter water and sky. The cranes are made out of a kimono scrap. The pink spot is part of the original kimono.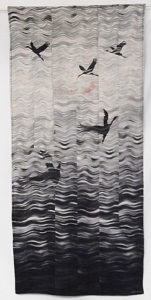 STREET PEOPLE in gray paper mache' clay that looks like concrete
RAY OF SUNSHINE
size 10.5″x 10″x 8″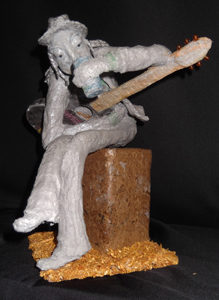 BEAD SELLER
size 5″x 6″x 12′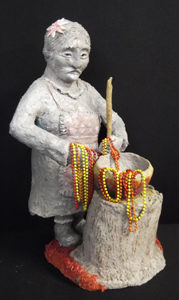 PINK DRESS WITH MONKEY
size8″x 8″x 8″